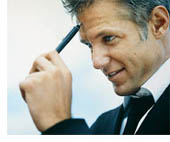 WallStJobs.com is the best resource to connect you with financial services job opportunities. But you'll still need a solid resume to bring to the meeting. [While it's no substitute for interviewing well, it can go a long way towards setting you apart from the pack.]
Give yourself every edge possible - the experts from WallStJobs.com and CareerPerfect.com will help build you a resume that makes you look as smart as you really are.
We know what employers want to see - we'll connect you with skilled writers who specialize in the financial services industry. They'll collaborate with you to highlight your brightest assets and biggest successes, until you're satisfied with the results. You'll receive a resume personalized to your unique experience - not based on a cookie-cutter formula.




You'll also be able to enjoy helpful resources and content geared towards helping maximize your job search efforts. Like
InterviewSmart™
- Turn interviews into job offers using the leading interview-coaching program. Learn insider success strategies, answer tough questions, negotiate the best salary and more.